GE Series High Wall Mounted Heat Pumps Range
Designer EF25 High Wall Heat Pump – Small Room System
The Designer EF25 High Wall Heat Pump – Black Diamond – a unique designer styled gloss black heat pump with elegant lines that is also available in matte silver and classic white, making it a perfect addition to any home, and very easy to match living room electronics and a darker décor.
One of the most rewarding aspects of interior design is being able to inject your own design personality through colour selection and accessorising. With a choice of contemporary colours including Glossy White, Matte Silver and Rich Diamond Black, you can choose to blend in, or stand out, either  way, it's the chance to reflect your interior design style.
Specification:  Cooling capacity of 2.5kW/ Heating capacity of 3.2kW
To accompany the elegant, slimline design, Mitsubishi Electric have combined very efficient technology with unique energy saving features, contributing to reduced energy consumption in your home or office.
Whisper Quiet Operation
Feel the warmth from this slimline designer high wall  heat pump, because you won't hear it. This is due to a fan speed setting that provides quiet operation as low as 21dBA.
Energy Star® for Designer EF 25 High Wall Heat Pump
The Energy Star® mark is awarded to the most energy efficient heat pumps available in New Zealand, which means better performance all winter long. Our Designer Series models (EF25/35) have been awarded the Energy Star® mark, signalling they meet strict energy efficiency standards.
Mitsubishi Electric Wi-Fi Control
Manage your heat pump through your smartphone, tablet, or online account, no matter where you are. On the way home, running late, coming home early, or even when you're in a different country, Wi-Fi Control offers innovative real time management to suit your lifestyle. Now you will always arrive home to total comfort.
The full Designer Series range comes with a 7 Day Controller, which maintains both style and functionality. Award winning, innovative Mitsubishi Electric Wi-Fi Control opens the door to superior customisation and smart control, a first for high wall and heat pumps in New Zealand.
With Mitsubishi Electric Wi-Fi Control you have the ability to set an unlimited number of settings/rules. Referred to as a rule set, these can be unique to each indoor unit. These settings can be anything from turn on/off and change mode to more advanced settings such as the minimum/maximum temperature limit rules.
Developed by New Zealanders for New Zealanders, the Designer EF25 High Wall Heat Pump also has Wi-Fi Heat Pump Control. This gives you the ultimate freedom to tailor your heat pump system to suit your lifestyle where ever you are.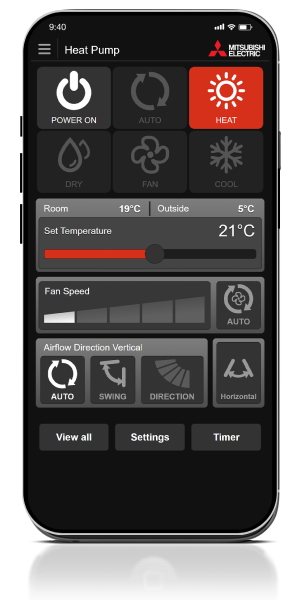 The Wi-Fi Heat Pump Control allows users to:
Turn heat pumps on/off
change temperature
change modees
change fan speeds
change airflow direction
develop operating rules
Programme your system to automatically turn on/off at specific times, change settings, and develop temperature rules to ensure superior comfort day after day.
get in touch
Ask a Question or Request a Free Quote